Our life is governed by nature's rhythms, whether we are conscious of them or not. The rise and fall of the sun, the changing of the seasons, the waxing and waning of the moon - these are just some of the cycles that exert their influence on us. I have been working with seasonal and lunar rhythms for over twenty years now and I have found that the more I am able to align myself with these rhythms the more insight and ease I can source from my daily life. would love to take you on a journey through a full lunar cycle of Moon Magic so that I can share some of what I have learned with you. My hope is that this program will inspire you to cultivate your own personal lunar wisdom practices. Rituals inspired by the quality of attention you bring to the rhythms that play upon your body, mind, and heart.
---
How Does This Course Work?

Our journey will officially begin on the new moon of January 31st 2022, but you will want to sign up before that date so that you can use the new moon to prepare for the work we will be doing together. Our Moon Magic program will take us through five primary phases of the moon and with each of these a new pre-recorded lesson will be released. There will also be five 1 hour live Zoom workshops that you will be invited to attend. These will also be recorded and added to the program so it is not a problem if you can't make it live.
The Pre-Recorded lessons include -

a video presentation on the energetics of the current moon phase
info about the symbols and archetypes related to that moon phase
suggestions for personal practice & ritual for that phase
a short yoga or meditation practice to help you attune to the energies of the lunar cycle
kitchen witching herbal recipes
tarot spreads to support self-inquiry
Live Moon Magic Workshops on Zoom
Our January - February 2022 program will also include 5 x 1 hour live stream workshops on Zoom. In these classes, I will dive deeper into the material shared in the pre-recorded lesson and we will practice tarot, journal work or ritual craft as a group. These live sessions will give you a chance to ask questions and connect with others in the group.
Private Forum
You will also be invited to join a private Facebook group (optional) where we can talk about what we are learning and practicing in between lessons. This is a casual space where you can ask me questions directly and connect with other students in the program. The program material will not be posted here and so joining this forum is not necessary to your participation in the course.
Who is this course for?

Anyone who has an interest in learning more about lunar rhythms and wants to create personal practices that will support them in attuning to those rhythms in their daily life.
What will you learn?

I am going to share a number of different practices and teachings with you, what you take away from them will be unique to you. The teachings I share will be my own, inspired by my years of fascination with the topic of lunar rhythms. The practices I share with you will be rooted in my personal practices of earth magic, yoga, meditation, journal writing, tarot and herbalism. I will offer you a variety of practices with each lesson so you may choose the ones that suit you best. Nothing in this program is obligatory and there are no assignments that need to be completed by a specific time.
What is the primary focus of this course?

When I teach about Moon Magic my focus is on supporting you in beginning to notice the way that the waxing and waning rhythms of the moon affect you. It is my hope that you might use your relationship to these rhythms to enliven your personal practices of creativity, ritual and self care. I am NOT going to talk about how to use the lunar rhythms to manifest abundance or rock your business because that is not my interest or my practice. However, I hope that you will find that you can apply my teachings to any area of your life that interests you.
Why does Moon Magic matter?

There is so much about our current human-caused state of affairs on this planet that causes me grief and despair. I know I am not alone in these feelings but one thing that has consistently offered me a sense of hope or peace has been my connection to the natural world around me. There are many ways that I support this connection and lunar wisdom practices are just one of those ways. I believe this world is full of very real magic that many of us have forgotten how to engage with. Exploring your personal relationship to lunar rhythms can be a doorway back into that remembrance.


Your Instructor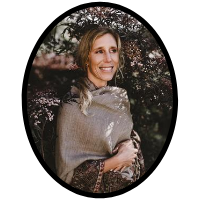 I am a woman who wears many hats. I identify as student, seeker, and storyteller, mother, mentor and magic maker. I have been teaching yoga and meditation since 2002 and love to support others on the path of self discovery through practices of personal ritual. My lifelong curiosity with nature's rhythms has led me to my studies in Ayurveda, Western herbalism, and various earth based wisdom traditions. I also bring a love of myth and story to my work as I have found symbolism to be a powerful teacher. This dance of seasonal reverence, yogic sadhana, mythic story, and kitchen medicine lie at the heart of all that I share.
Frequently Asked Questions:
---
When does the course start and finish?

This program begins on the new moon of Jan 31st 2022 and will run through an entire moon cycle taking us through to the new moon of March 2nd 2022. After the course is finished you will have continued access to the material and can join me for free every time I run a new group through the program. In other words by buying the course once you have lifetime access!
How long do I have access to the course?
How does lifetime access sound? After enrolling, you have unlimited access to this course for as long as you like - across any and all devices you own.
I've never done an online course before. What do I need?

All you need is a computer or tablet device that will allow you to watch the videos, join the lives sessions (if you choose to), and download the handouts. There will also be a private Facebook group where you can connect with the community so if you want to take part in that you would need a Facebook account - but that part is optional.
What times are the live workshops at?

There will be five x 1 hour live workshops during our month together. These workshops will be held on Zoom and will also be recorded so that they can be uploaded directly into our course. If you can make it live that is great as it will make your experience more interactive, but if you cannot make them live don't worry as you can catch the recording afterwards. The times and dates for the live sessions are listed below -
Weds Feb 2nd 5pm PST

Tuesday Feb 8th 5pm PST

Tuesday Feb 15th 5pm PST

Tuesday Feb 22nd 5pm PST

Monday Feb 28th 5pm PST