The purpose of a formal practice time is to establish and sustain the awareness of inner tranquility that is always available to us. In the hubbub of everyday life it is easy to forget that each of us has this innate capacity to be calm and peaceful. || Donna Farhi
It is my belief that yoga practice is not something that we do, rather it is a relationship that we tend. Like all meaningful relationships, it develops over time and requires a certain amount of intimacy, trust and commitment. Studying with knowledgable teachers and practicing with the support of community are important aspects of our learning journey without a doubt, but I also believe that we must cultivate a personal relationship to practice that can nourish us - even when our teachers or our community are not present.
I created this program as a means of supporting those of you who have been practicing yoga for some time but have yet to establish a regular home practice of your own. In this course I will act as your guide, offering support and structure so that you may begin to gain some insight into how to self initiate practice and engage your sadhana on your own terms.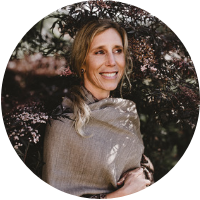 MY NAME IS NATALIE & I WEAR MANY HATS.
I identify as seeker, student, storyteller, and sadhaka. I value conversation, community, and curiosity and I am passionate about learning. I have devoted my life to the study of yoga, meditation, traditional wellness practices and earth centred medicine. I believe in the power of personal practice as a means of reclaiming our inherent wisdom and love nothing more than to support and witness others as they walk their own path of remembrance.
How Will The Course Be Delivered?
This course will run for one month, starting on May 7th 2020. Each week you will get a series of short practices to explore, leading up to a full spectrum practice that is 90 minutes long. These lessons will roll out from Friday - Weds and on Thursdays we will gather for a live stream practice where we put it all together and practice as a group. The live stream classes will be recorded for later viewing if you cannot make it live. All the course material will be housed here on Teachable and your one time purchase will give you forever access to the course along with all future upgrades.
What Type Of Practices Will We Cover?

In this program we will explore the practices of yoga asana (Hatha/Vinyasa approach), mantra, meditation, pranayama, self reflection, personal ritual and inquiry. You will get supportive videos outlining the practices each week and have the freedom to choose which practices you want to engage with.
What Type Of Yoga Will Be Taught?
In regards to the physical practice, my style is definitely movement-based, what I would call a Hatha/Vinyasa approach. Each week the core practice will be broken into sections that I will instruct via video and share modifications for. This will allow you to figure out how to approach and adjust the practice to suit you best. These video sections will be rolled out over the week in this order-
General warm ups and Surya Namaskar
Standing & Hip Opening
Peak Pose
Closing Sequence
While there will be an option to explore some larger or more complex peak poses such as Headstand, please know that the course will be designed so that you can approach those poses with understanding and skip them entirely if you choose. This course is not focused around expanding your ability to do a bunch of fancy postures, its primary focus is on exploring and developing your own relationship to personal practice.
What Kind of Support Will You Offer?

Along with the primary course material you will be invited to join a private online forum on Facebook, where you can ask questions and connect with community. I will also host a weekly live stream class where we will have time for discussion (and I may add in an extra philosophy and Q&A session if needed). In addition to this you can also email me at any time to ask questions.
Themes For Each Week
Each week we will explore a different facet of this conversation around practice. These teachings will be offered in audio and video files along with suggested practices and questions for self inquiry.
Week 1: Invocation- awakening the sadhaka within us, clarifying our aims, determining our non-negotiables, creating a personal ritual for practice
Week 2: Seeking Equanimity -gathering our attention, learning how to work with craving/aversion, cultivating focus, learning how to rest in the still point of equanimity
Week 3: Friction & Expansion - learning how to identify our evolving edge, working with tapasya, cultivating a willingness to challenge ourselves in appropriate ways through seasons of practice
Week 4: Warp & Weft - looking at our relationship to practice and to life, finding the balance point between our inner and our outer work, dedicating the fruits of our practices to the wellbeing of all
Frequently Asked Questions
When does the course start and finish?
It begins on May 7th 2020 and runs through till June 6th 2020, which means that I will be offering focused support and guidance through those dates. After the completion of the course, you will have ongoing access to all the lessons so you can continue to move through them at your own pace.
When are the live stream sessions held?
The bulk of this course will be delivered in pre-recorded video and audio files, but our weekly live stream practice session will be held via Zoom on Thursdays at 11am PST. This weekly class will be recorded and uploaded in the course for later viewing if you cannot make it live.
I am new to yoga, can I take this course?
I will be providing lots of instruction in this course but the program is not meant to an introduction to the practice and so is not suitable for raw beginners or those with injuries who would benefit more from in-person instruction. This course is aimed at those who have some experience practicing yoga and now want to deepen their relationship to personal practice in a meaningful way. See Who Is This Program For below for more on this and feel free to reach out to me directly if you have questions about your suitability for this program.
Who Is This Program For?
This program is ideal for those who want to nourish the sadhaka (sincere student & practitioner) within them.
It is for those who want to strengthen their own personal relationship to practice so that it may offer them a source of constancy, something they can take refuge in when times are hard.
This program is for folks who love to learn from others, but who are also willing to apply that learning to the context of their own lives so that they can create an approach to practice that is meaningful to them as an individual.
The approach to asana that I teach from is a Hatha/Vinyasa approach so this course is best suited to those who enjoy a flowing style of practice that favors sound alignment principles within a dynamic movement approach.
Who Is This Program Not For?
This program will not be suitable for those who are raw beginners as I feel that kind of teaching is best done in person - sorry. I have chosen instead to gear this course towards folks who have experience with practice and now want to take their learning to the next level by creating a satisfying personal practice.
This course is not likely to be of interest to those who are primarily interested in developing an advanced asana practice or those who are looking only for a strong yoga based workout. I have geared this course towards those who want to cultivate the ritual of regular practice in their lives and so though I will offer support and structure in regards to asana practice, we will be looking at a full spectrum of practice that also includes practices of mantra, meditation, pranayama, and self inquiry.
Due to its online nature this program is not ideal for those dealing with significant physical limitations or those needing specific therapeutic support. To serve you best I would need to work with you in person. Thank you for understanding.
If you are new to me as a teacher or have not taken a yoga class with me before and are unsure of whether or not this course would be a good fit for you please reach out to me directly so we can chat.
The conversation around personal practice is one that I am passionate about and I am very much looking forward to engaging with in this program. I will be packing this course with resources and sharing as much of my knowledge and support as possible so that you can begin to design rituals of practice that are meaningful and nourishing to you as an individual. I hope that you can join me for Sadhana: The Art & Ritual of Personal Practice.