Warmth, vitality, and light are the gifts of the summer season. It is the high point of the yearly cycle, a time of exuberant abundance and beauty that can be intoxicating at times. Ideally, it is a season in which we are able to cultivate wonder and enjoy the simplicity of daily life without stress or strain, and if we are open to learning it the summer season can teach us how to savour life fully without moving into excess.

This online workshop will provides tips on how to manage your energy skilfully during the long days of summer so that you may satiate yourself with the pleasure of the season but still maintain overall health and balance.
Summer Wisdom also offers you a small glimpse of what you will find in some of my longer programs and is a good introduction to my online courses.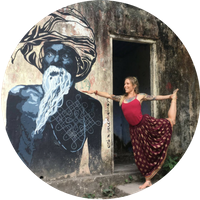 MY NAME IS NATALIE AND I WEAR MANY HATS.
I identify as woman, mother, storyteller, guide, wisdom seeker, earth lover, yogini, and kitchen witch. I value conversation, community, curiosity, humility, freedom of choice, and personal integrity. I am passionate about learning and have devoted my life to the study of yoga, meditation, traditional wisdom teachings, and earth centred medicine. I believe in the power of personal practice as a means of reclaiming our inherent wisdom and love nothing more than to support and witness others as they walk their own path of remembrance.
The Summer Wisdom Workshop Includes
90 minutes worth of video presentations broken into small lessons (20-30 minutes long)
2 fifteen minute yoga sequences for AM & PM practice
1 guided elemental meditation practice
3 herbal wisdom recipes for summer wellness
3 seasonal recipes to inspire your summer cooking
2 aromatic body care recipes to soothe summer skin
a short list of my favourite summertime herbs & essential oils
supportive handouts & resources for ordering herbs & essential oils