Weave the wisdom of Yoga and Ayurveda into your daily life

Do you love your yoga practice but want more support and inspiration on how to bring your yoga into your everyday life?
Are you curious about Ayurveda and ready to learn some practical tools to support your health and wellness?
Would you like to learn simple ways to help you align with natures rhythms so that you can access greater energy throughout the year?
The Living Yoga Immersion is a program that I have designed to support women in discovering how to bring the wisdom of Yoga & Ayurveda into their daily lives so that they can optimize their own health, as well as the health of their families or communities. This program is rooted in the concept of sadhana, daily self care practices that are simple to do and that will nourish you on all levels of your being. In this program I share with you the essential teachings and practices that I make use of on a regular basis.

How Does This Course Work?
This program includes 15 lessons broken into five different modules. You can move through the material at your own convenience and you will have access to a private forum where you can ask questions. The lessons come in video and audio format along with supportive handouts.
Your Instructor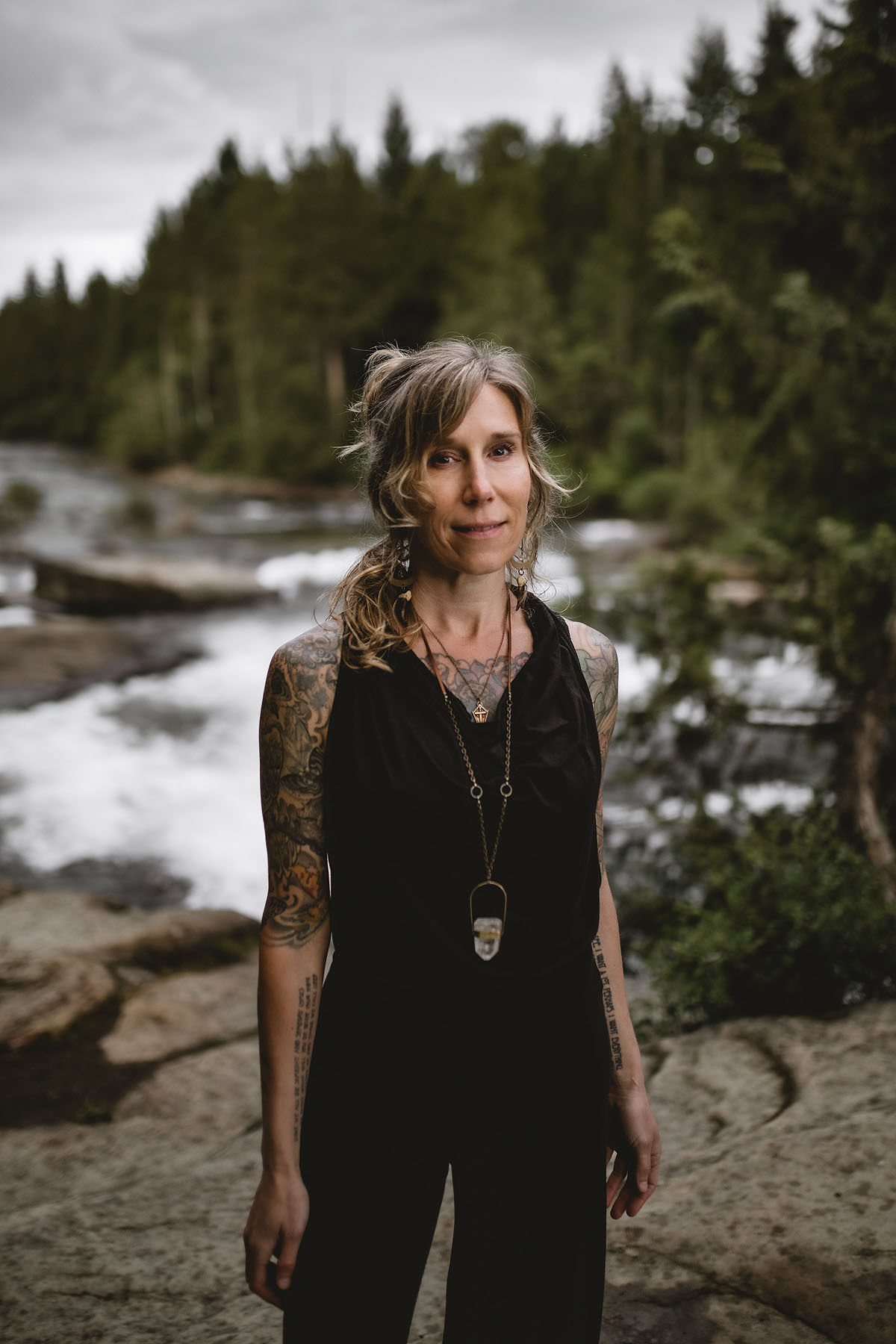 I am a woman who wears many hats. I identify as student, seeker, and storyteller. Mother, mentor and magic maker. I have been teaching yoga and meditation since 2001 and love to support others on the path of self-discovery through practices of personal ritual. My lifelong curiosity with nature's rhythms has led me to my studies in Ayurveda, Western herbalism, and various earth-based wisdom traditions. I bring a love of myth and story to my work as I have found symbolism to be a powerful teacher. This dance of seasonal reverence, embodied practice, mythic story, and kitchen medicine lie at the heart of all that I share.
Living Yoga Online Immersion Course Details
In this program you will receive the following
15 video lessons 45-90 minutes long (audio & video presentation)
access to an online forum to connect with a community of like minded women
informative handouts & recipes
guided meditation audios & 3 short yoga videos to support your practice
extensive resources to support further learning and personal exploration
Modules & Topics Covered
Module 1: Fundamentals of Ayurveda
Pancha Mahabhutas: learn about the qualities and manifestations of the five great elements of Earth, Water, Fire, Air & Space and understand how to recognize them in your own body and the world around you.
Doshas: explore the concept of Dosha and gain a greater understanding of how the elements combine to create these forces of energy at play in your own body and mind.
Subtle Doshas: the subtle doshas are the most refined aspects of the five elements, and by learning how to strengthen, nourish, and cultivate them in our lives we can experience true health and radiance.
Module 2: Living in Rhythm
Dinacharya: in this lesson we will explore the ideal daily rhythms that will support us in maximizing our energy and strengthening our overall health
Rtucharya: seasonal considerations are a key part of Ayurvedic lifestyle and in this lesson we will gain a greater understanding of the elements and qualities of each season so that we can make wise choices to nourish us through the wheel of the year
Moon Rhythms: the moon exerts a subtle but powerful pull on our lives and in the lesson we will look at how to optimize our schedules by taking the moons waxing and waning into consideration, while also exploring the rhythm of the menstrual cycle and its effect on our minds and bodies throughout the month
Module 3: Home Practice
Understanding Asana: learn the basics of intelligent sequencing and gain understanding of the energetic qualities of specific posture types so that you can create customized home yoga practices
Subtle Practices: in this lesson we will explore the potent practices of mantra, pranayama, and meditation. You will be introduced to a variety of meditation approaches, simple mantras and breathwork techniques that will empower you in new ways
Philosophy of Practice: this class will introduce you to some of the fundamental philosophical teachings of the yoga traditions (Vedic, Classical & Tantric) and will emphasize the cultivation and clarification of your own aim (sankalpa) regarding practice
Module 4: Nutrition & Digestion
Agni & Ama: here we will look more closely at the concept of digestion (agni) according to Ayurveda, as well as exploring the concept of Ama (digestive waste or toxins) so that you can strengthen your gut health, thereby supporting overall wellness
The 6 Rasas: the Ayurvedic system recognizes six essential tastes or rasas, each of which is made up of a combination of the five elements and thereby exerting an influence on your digestive capacity and overall state of balance. Understanding the energetic qualities or tastes of foods will help you to make the right choices regarding which foods are best for your unique constitution on any given day
Seasonal Cleansing: cleansing is a hot topic these days and in this class we will look at the concept of seasonal cleansing and explore different ways in which you might structure a cleanse so that it can provide a reset for your system without depleting you of essential nutrition or energy
Module 5: Kitchen Sadhana
Spice Medicine: did you know you have powerful medicine sitting in your kitchen cupboard? This fun class will educate you on some of the most common kitchen spices and how they can be used to support digestion and empower your health
Home Pharmacy: learn how to make simple and effective self care products, household cleaning agents and more! This class will inspire you to make a practice out of creating all that you need in your own kitchen and removing harmful chemical products from your household
Cold & Flu Care: this lesson will help you to understand the difference between a colds and flus, while providing helpful self-care and recipe ideas to strengthen your immunity (and the health of your family) during the seasons when we are most likely to get sick
Testimonials
"The Living Yoga Immersion course is so informative, practical and insightful. Natalie has structured the materials so thoughtfully and all the handouts and recipes are amazing! I would recommend this course to anyone looking to bring a greater quality of self-care and awareness into their lives, their yoga and their health practices."
- MELISSA QUANTZ
"The Living Yoga Immersion Course with Natalie Rousseau was truly life changing. I was struggling with several health issues and chronic stress before starting the course. Over the past 12 weeks I have been able to find beautiful ways to nourish and care for myself. I look forward to the simple new habits that I have created through this course that enrich my life."

- KRISTA VOTH
"This course clarified a whole world of questions I had about Ayurveda. There were a lot of 'ah-ha' moments as I listened to the weekly audio files followed with inspiration abound. Natalie is very thorough and articulate in the way she presents material. Not once did I feel overwhelmed with information, although she shared an incredible amount of knowledge with us through this course! It's astonishing how much stronger my immune system has become just by making seasonal food choices & how much pleasure I'm getting from the simple self care practices I've learned from Natalie and incorporated into my daily life. I feel radiantly healthy and whole and much more capable of "handling" what life throws my way!"

- MEGHAN BROWN
"At the age of 61, after struggling with arthritis and its companion, depression, for 36 years, I had been told over and over again that there was not much to be done. Take the pills and resign yourself to on-going, relentless joint damage! Arthritis is hereditary! Change your lifestyle was always the message: how to do that was never clear. Natalie has sequenced this mystery to unfold gently and most comprehensively, in this course. I have learned new insights and techniques to ensure I do not go gently into that night and live an enjoyable, fuller life. The prescription meds for pain and inflammation are now kept way at the back of the medicine cabinet!"

- HELENE LEVESQUE
"I often struggle with poor, slow digestion and just learning about what to eat and when to eat it has completely shifted how I feel. After just a few months, I feel more in tune with what my body needs as opposed to what it wants."
- ALISON HEARD
"This course inspired me to make real change in my life. Natalie explains the concepts of Ayurveda in a way that is easy to understand and to implement in your daily life, starting with very simple steps like eating meals at regular times and shifting your habits gradually over time. I have taken Ayurveda courses in the past and was left feeling that the changes were too extreme to incorporate into my life. The information and lifestyle changes in this course were very accessible and manageable for the average person. I am now getting more sleep and exercise and eating better thanks to this program."

- KATE QUINSEY
Scholarships
Scholarships are available for those who self identify as BIPOC, transgender or non- binary and are facing financial hardship. To apply for one of these scholarship spots please email me directly at [email protected]

I believe that in order to truly live your yoga you must be able to weave it into the fabric of your everyday experience, and this program is where I share the tools and the practices that have allowed me to do that for myself, and which I have shared with many students over the years to support them in doing the same.
See you inside,